Metz Legacy Society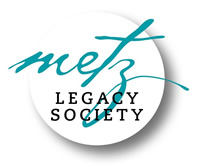 Grand Rapids Community Foundation was seven years old when it received its first major bequest - a gift from the estate of Mary Metz in 1929. Mary was the widow of George Metz, who had built a successful tannery and real estate businesses with his wife's support.
To honor the caring legacy that George and Mary Metz have passed on to countless generations through their bequest, Grand Rapids Community Foundation created the George and Mary Metz Society. The Society recognizes those donors who have included the Community Foundation in their estate plans or have created a life income gift to the Foundation. In good times and bad, these gifts will continue to benefit the community in perpetuity.
Metz Society Benefits
A charitable bequest has several advantages. Besides directly supporting your community, your gift may reduce your estate taxes. You can designate a bequest to the Community Foundation or you can set up life-income plans which provide income to yourself and/or your beneficiaries. A bequest can take various forms, depending on your objectives.
Metz Society members receive many special benefits. Some of which include exclusive invitations to events, a copy of our annual report and recognition within the annual report.
To commemorate your entry to the Metz Legacy Society, a tree will be planted in your honor in one of Grand Rapids City Parks through the Friends of Grand Rapids Parks. We also believe there is nothing more fitting than a tree to illustrate the enduring strength and beauty of your planned gift.
If you have included the Foundation in your estate plans and are not a recognized Metz Society member, please contact our development staff. We want to be sure that we accurately understand and properly carry out your wishes when the time comes. We can be reached at 616.454.1751.